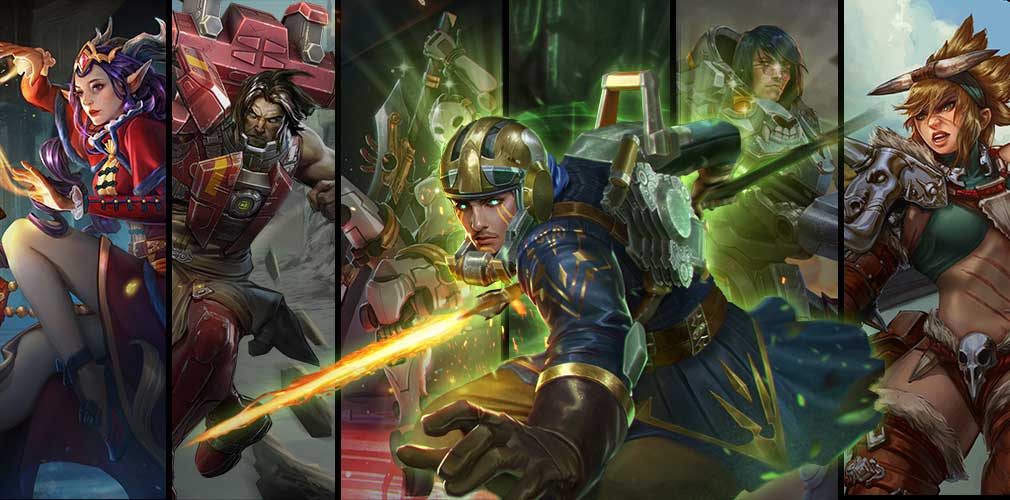 Each week six heroes are temporarily unlocked for play in Casual and Private games. If you enjoy playing these heroes and want to unlock them permanently, each hero in this week's rotation will be available at a 10% ICE discount. Try any of the heroes listed below before unlocking them with Glory or ICE!
---
IDRIS (CARRY)
Idris shifts through battle, piercing his targets with his spear and chakrams. When building weapon items he excels at assassinating vulnerable targets at close range, while crystal items allow him to dance around the fight, keeping his distance. Whether building weapon, crystal, or a combination of the two, Idris brings extraordinary damage and agility to any fight.
---
LYRA (CAPTAIN)
Drawing upon her training as a Gythian battlemage, Lyra uses healing and protective magic to turn enemy positions into powerful zones for her allies. Her portals also allow her team to bypass these positions entirely, avoiding defenses and terrain. Utility and defense items improve her role as a healer, while crystal items provide a devastating but fragile mage path.
---
ARDAN (CAPTAIN)
Ardan is a damage-soaking protector who dramatically changes the landscape of teamfights. Able to rescue friends from certain death and turn lost battles around with his powerful terrain-changing ultimate, Ardan brings immense utility to the team. Start Ardan in either the lane or jungle, depending on which ally you want to protect most.
---
ALPHA (JUNGLER)
Alpha hunts and terminates her targets with ruthless precision. No longer bound to the rules of mortality, she engages in battle without fear or caution. Alpha performs well in the jungle and can take down her targets built either weapon or crystal.
---
BARON (CARRY)
Baron rains destruction on his opponents. When building crystal items, he becomes mobile artillery, laying siege to enemy teams. His weapon path enables aggressive in-your-face tactics. No matter how he builds, he brings incredible range and powerful burst damage to any team.
---
RONA (JUNGLER)
Rona is a deadly berserker who is always ready to leap into battle. She holds her own in melee combat, unleashing enormous damage on everyone who stands and fights. Rona is best played in the jungle, pairs well with protectors and works well with both weapon and crystal builds.
---
ABOUT THE FREE HERO ROTATION
The free hero rotation unlocks six heroes each week to play as long and as much as you want in the Casual queue. It's an opportunity to test drive heroes before using ICE or Glory to unlock them.
The free rotation changes every Tuesday and heroes in the rotation usually won't return for a few weeks or months afterward, so unlocking heroes is always worthwhile. The free rotation does not apply to Ranked play to ensure players are already very familiar with the heroes they play in that try-hard environment with skill tiers at stake.
---
Jump into the Fold now with this group of great heroes!