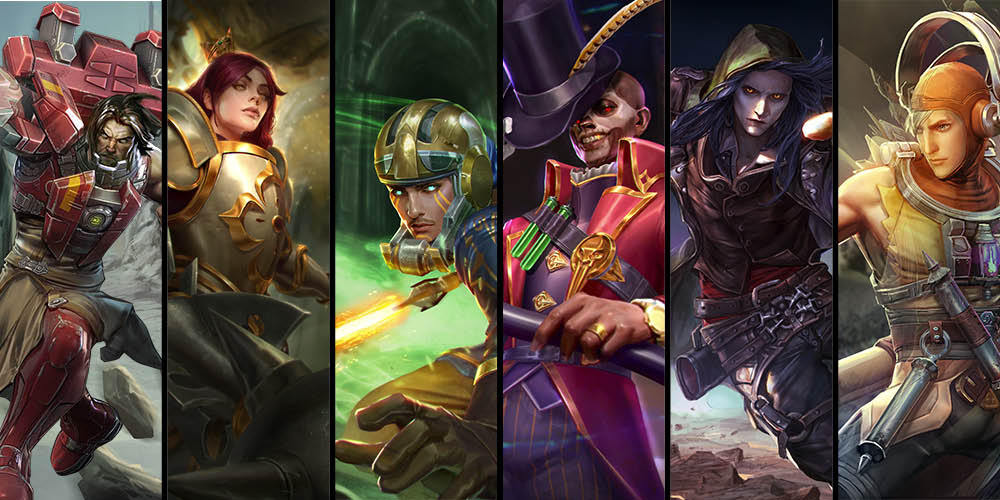 Each week six heroes are temporarily unlocked for play in Casual and Private games. Try this set of heroes today!
---
ARDAN (CAPTAIN)
Ardan is a damage-soaking protector who dramatically changes the landscape of teamfights. Able to rescue friends from certain death and turn lost battles around with his powerful terrain-changing ultimate, Ardan brings immense utility to the team. Start Ardan in either the lane or jungle, depending on which ally you want to protect most.
---
GRACE (CAPTAIN)
Grace leads her team into battle by charging forward with her giant mace. Utilizing the power of the Light, she protects her allies by granting them holy shields that greatly reduce incoming damage. When the fight seems bleak, she can turn the tides of battle by calling upon the Seraphim to dish out massive single-target heals.
---
IDRIS (CARRY)
Idris shifts through battle, piercing his targets with his spear and chakrams. When building weapon items he excels at assassinating vulnerable targets at close range, while crystal items allow him to dance around the fight, keeping his distance. Whether building weapon, crystal, or a combination of the two, Idris brings extraordinary damage and agility to any fight.
---
BAPTISTE (CARRY)
Baptiste dictates battle by striking fear into the heart of his enemies. Reaping the souls of his opponents, he both sustains himself and empowers his attacks and abilities. He commands his army of shades to either lock down unsuspecting victims or terrorize entire teams, forcing them to flee from him.
---
SAMUEL (CARRY)
Samuel is a dark mage who controls large areas with his abilities. Samuel is able to deal damage on the move, but he may be caught out of position if played too aggressively. He is well suited in the lane, able to bully his victim while draining health and energy to sustain himself.
---
VOX (CARRY)
Vox is a mobile sniper with a high-energy playstyle, able to quickly and frequently dash around the battlefield. Vox deals significant damage either to a single target or to groups of enemies depending on his build. This flexibility allows Vox to react according to the needs of his team.
---
ABOUT THE FREE HERO ROTATION
The free hero rotation unlocks six heroes each week to play as long and as much as you want in the Casual queue. It's an opportunity to test drive heroes before using ICE or Glory to unlock them.
The free rotation changes every Tuesday and heroes in the rotation usually won't return for a few weeks or months afterward, so unlocking heroes is always worthwhile. The free rotation does not apply to Ranked play to ensure players are already very familiar with the heroes they play in that try-hard environment with skill tiers at stake.
---
Jump into the Fold now with this group of great heroes!